Stay Salty Cross Braided Black Cord Bracelet
Description
Stand out and glorify Jesus with our Stay Salty macrame cross bracelet. The cross charm is reversible, engraved "STAY SALTY" on one side and finely polished on the other. Set on naturally dyed; hand braided cotton cords. Complete the look with other M4M bracelets. Our bracelets were intentionally designed to layer together to create bold meaningful looks!
For every M4M bracelet sold, Rizen will donate 10% of the purchase price to Christian Ministries
Inspiration
Inspired by Matthew 5:13

Jesus calls believers to be the salt and light of the world. We all need reminders throughout our day to stand out and be separated, remembering to glorify Him every step of the way!
Join the Made4Ministry movement that supports Christian ministries in our communities and abroad. It will be easy to create conversations about Jesus when wearing or gifting this meaningful design.

Specs
Designed by Rizen Jewelry; the Cross Pendant Charm has similar flares and details as our fine jewelry line
Hand braided, naturally dyed cotton cords. So comfortable, it feels like a second skin
8.5 mm x 17 mm Cross Pendant is brass with Sterling Silver, 18K Gold or Rose Gold Plating
The Bracelet is 100% nickel and lead free
One size fits all, adjustable closure with circular Rizen / Made4Ministry tag
Thoughtfully packaged on a keepsake devotion card, with a scripture card to meditate on and space to add a personal prayer on reverse
Style # 570005
Collection: Made4Ministry
Stay Salty Cross Braided Black Cord Bracelet
Design & Craftmanship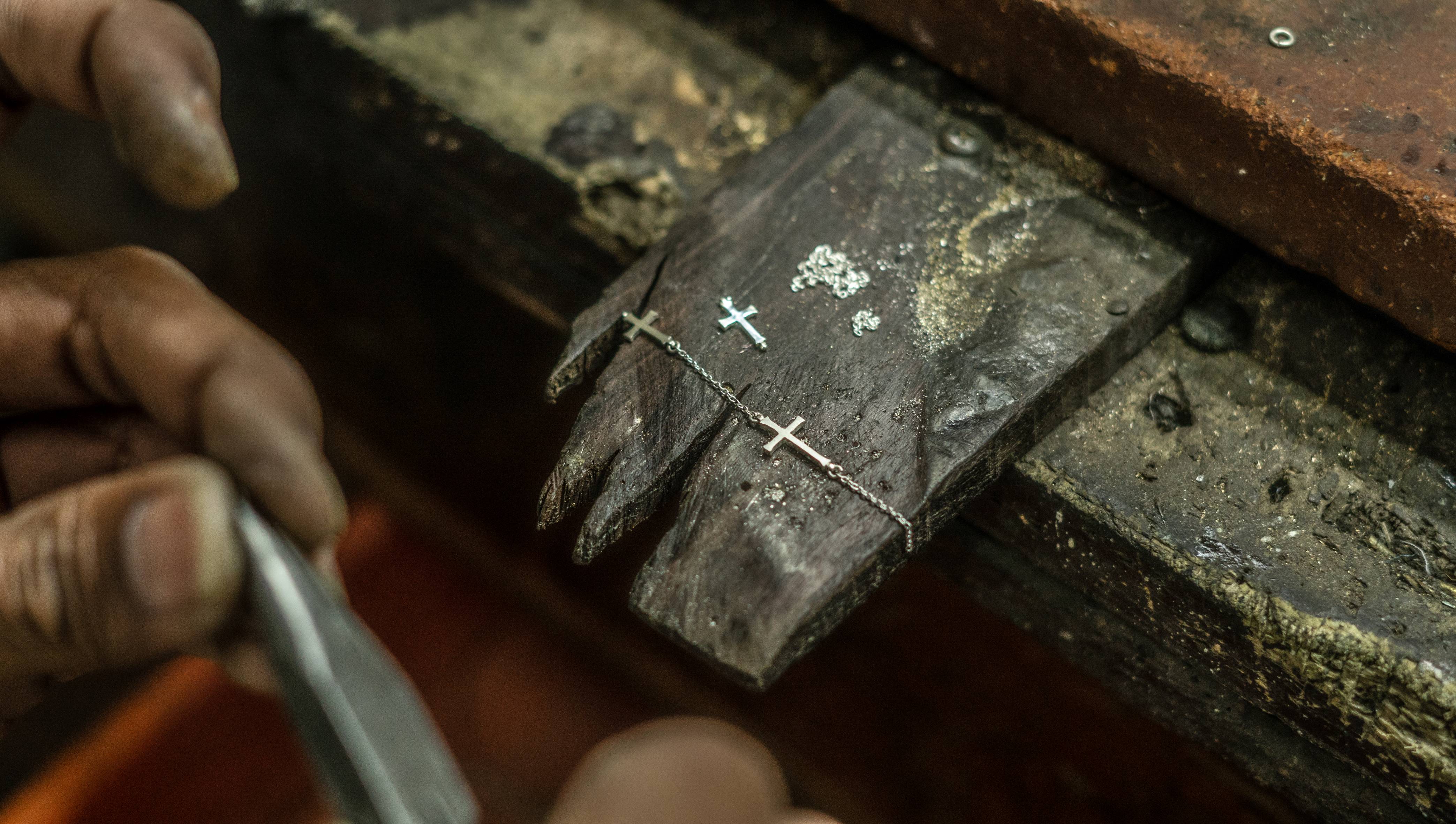 Craftmanship
Our jewelry is designed in the US, ethically sourced, and handcrafted by artisans in intimate studio settings.
Our fine jewelry is made with high-quality Certified Sterling Silver and Recycled Gold.
Artfully Inspired
Our designs begin as a concept that resonates with our faith in Jesus.
Our ideas are then sketched, and revised over and over again until the design is worthy of the meaning it conveys. It's then casted into distinctive, bold yet refined jewelry that carries deep meaning and encouragement to the wearer.
Reminders of our Hope
We desire to uplift and offer subtle reminders of our Hope with beautiful products.
An artful expression of our faith. We create distinct, timeless, relevant designs that serve to keep God's promises close to your heart.
FAQ
What Metals are Rizen Jewelry made with?
Our Fine Jewelry is made of .925 Sterling Silver. Our Gold and Rose Gold Plated Jewelry is vermeil plated with 18 kt Recycled Gold.
Our Made-4-Ministry® designs are inspired by our Rizen Fine Jewelry. The base material is brass plated with .925 Sterling Silver, Gold and Rose Gold.
All metals used are 100% Nickel and Lead free.
 
Can a gift recipient initiate a return?
Yes, if the item was marked as a gift when purchased and shipped directly to the gift recipient the gift receipient will receive a gift credit for the value of the return. Gift credits will be issued via email in the form of a credit once the product is received.
Do you have a warranty?
Yes. We offer a 1 year warranty against defects in materials and workmanship for all sterling silver fine jewerly pieces.
We offer a 30 day warranty against defects on the products in our Made4Ministry Collection.
Shipping & Returns
Shipping Timelines
Delivery times are based on orders placed between Monday-Friday.
Please allow 2-3 business days for processing and 4-6 days for transit. Transit times vary depending on the destination.
Need it faster? We offer expedited delivery options at checkout!

Order Tracking
Order tracking should update every 2-3 business days. Know where your package is with easy order tracking!
What is Rizen's return policy?
Returns must be made within 30 days of the original purchase. To be eligible for a return, your item must be unused and in the same condition you received it.
Product must be returned in original packaging.
Flawlessly Layerable Looks
Designed for Effortless Styling
Our jewelry designs can be worn as a standalone statement piece or layered, mixed and matched with other collections and metals. Our jewelry collections are curated to take the guesswork out of styling your meaningful jewelry!