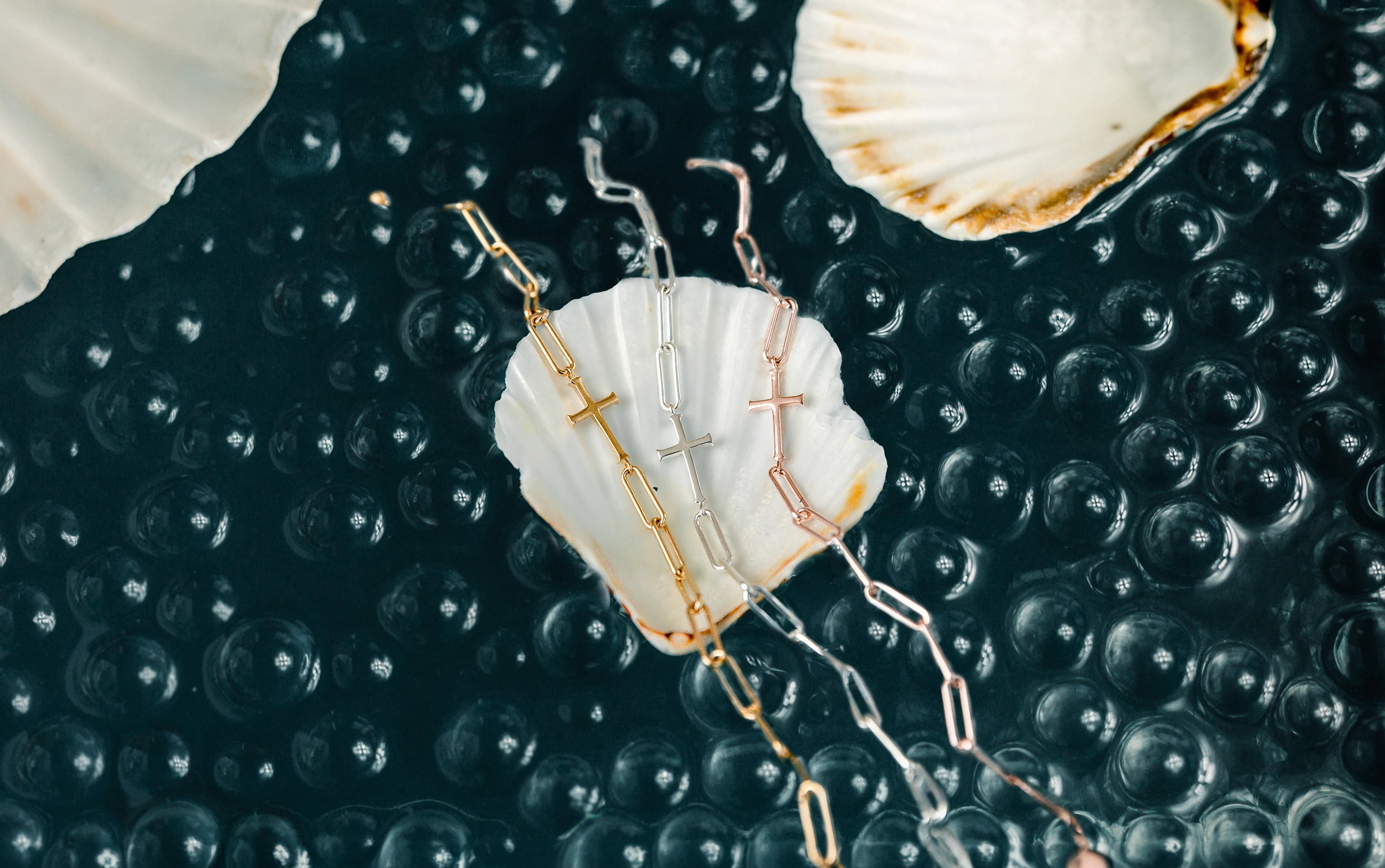 UNPARALLELED QUALITY
In the jewelry world, demi-fine jewelry seamlessly combines luxury with affordable charm, winning the hearts of enthusiasts globally. More than a trend, it embodies timeless elegance and attainable luxury. Demi-fine jewelry by Rizen offers a luxurious experience without the high cost, maintaining quality.
GOLD VERMEIL
Experience the rich allure of gold paired with the subtle elegance of sterling silver through our vermeil jewelry. Each piece is lovingly crafted with a thick overlay of recycled 18-karat gold encasing a high-quality certified sterling silver core. This exquisite marriage bestows upon every item a warm, golden glow reminiscent of a golden hour sunset without the lofty price tag of solid gold.
Our vermeil jewelry is a journey into affordable luxury. The substantial gold layer, at least 2.5 microns thick, ensures a durable and lasting golden radiance, allowing you to enjoy the sophistication of gold with the serene confidence of silver beneath.
We believe every skin is precious, which is why our vermeil jewelry is hypoallergenic, catering to even the most sensitive of skin types. Your comfort is as paramount as your elegance.
With vermeil, indulge in a piece of luxury that's both enduring and accessible. It's not just jewelry, it's an investment in timeless style and quality. Your gateway to affordable elegance awaits in every piece of vermail in our jewelry collections.
STERLING SILVER
Every piece in our collection is crafted from high-quality certified sterling silver, offering a symphony of luxury, durability, and authenticity.
Our sterling silver is not just a material but a promise of excellence. With a purity of 92.5%, the silver unveils a lustrous sheen that dances with the light, captivating every beholder. The certification stamp on our sterling silver is a testament to its authenticity, a badge of honor it wears proudly, letting you indulge with a peace of mind.
FREQUENTLY ASKED QUESTIONS
What sets demi-fine jewelry apart?
The hallmark of demi-fine jewelry lies in its material and craftsmanship. At Rizen, our pieces are meticulously crafted with 18 kt gold or rose gold vermeil on sterling silver, making them a more affordable yet equally charming alternative to high-end jewelry. The aesthetic appeal of demi-fine jewelry is its understated elegance and minimalistic design. These delicate creations are ideal for stacking or grouping, letting you explore a range of style expressions.
Is quality compromised?
Absolutely not! Despite being more budget-friendly, demi-fine jewelry does not scrimp on quality. Its soaring popularity is a testament to its ability to offer modern jewelry enthusiasts a high-quality, affordable solution.
You can read more below about the quality materials that make up our demi-fine pieces.
CARE AND MAINTENANCE
Your Rizen jewelry has been thoughtfully crafted with premium materials. By taking a few precautions in using and maintaining it, you will be able to preserve its original beauty over time.
WARRANTY
Because we know you will wear our meaningful heirloom jewelry more often than not, and you may want to pass down your faith jewelry to your loved ones, we offer a lifetime repair service for a minimal fee.